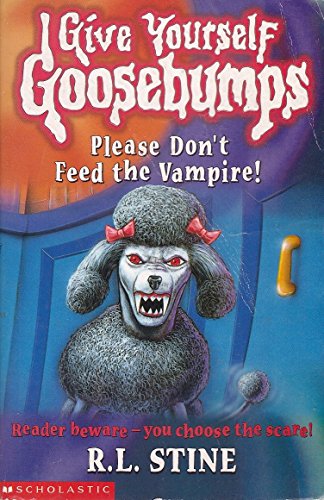 Book:
Goosebumps: Please Don't Feed The Vampire
Author:
R.L. Stine
Genre:
Children's, Horror
Published By:
Scholastic
Published Year:
1997
My Review:
Taking part in the OWL'S Readathon a subject I had was Care of Magical Creatures which had the prompt of "Land Animal on the Cover" because of this I thought it would be the perfect time to go back to a book I loved when I was younger called
Goosebumps: Please Don't Feed The Vampire
. Which I ended up still enjoying even though I am now an adult.
The book is one where the reader is able to make the decisions of the book and from the beginning there is two different routes in which the reader is able to take. The first is a story where the reader becomes a vampire and gets to choose how they deal with becoming one from trying to become human again to also staying a vampire. The other is where the dog becomes a vampire instead!
I personally think that this book is great for engaging readers with letting them choose what happens in the book and as a result making them a part of the story. Not only this but it is very easy to read while having the Goosebumps set up making it creepy and chilling to read as well as a little funny at moments. With the book having over 20 different endings as well this is a book in which people can read over and over and always find themselves in a different story.
Overall, this is a fun book which is great for children and one that is great for making the reader a part of the book itself. This is one that I always enjoy and wish that there was more types of books for as it's something in which I have always enjoyed. I would recommend this book to children and those who are looking for something spooky to read. I will be reading this again to see what other endings I can find.
My Rating: 5/5
---------------------------------------------------------------------------------------------------------------------------------------------------------------------------------------------------------------------------------------------------
If you have read this book what was your opinion of it?
Do you have a book we should review? If so comment it below