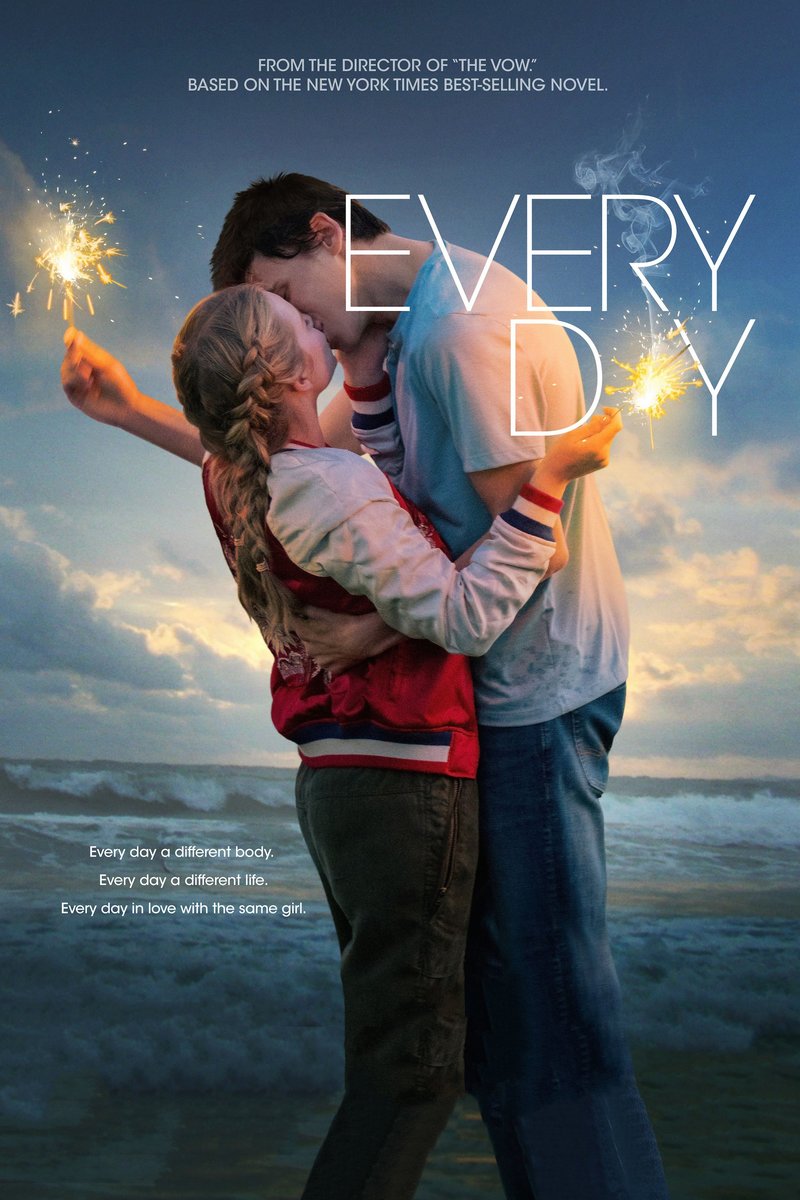 Film:
Every Day
Year:
2018
Genre:
Drama, Fantasy, Romance
Directed By:
Michael Sucsy
Starring:
Angourie Rice, Justice Smith, Debby Ryan
About:
A shy teenager falls for someone who transforms into another person every day.
Trailer: https://www.youtube.com/watch?v=tqoAMfe_rPM
My Review:
Having noticed this on Netflix and thinking that it sounds like an interesting watch I thought I would give it a try and although it was different and that was what I was looking for it didn't quite hit the mark for me.
I did like that the main girl within the film was a teenager who wasn't in the right relationship for her and she had to discover that for herself. With people also thinking that it wasn't quite right and her defending him it seemed relateable to a lot of relationships which did make the girl a lot more likable and one that people could identify with. Having a bad relationship with her father and the thing that goes into people every day helping to fix that I thought was really sweet as it showed sometimes people need a little help in rediscovering their love for someone or something which they just aren't capable of doing themselves which can make them a stronger person. I also liked how the spirit was able to bring the main character out of her shell and make her less shy and showed her how you shouldn't judge someone just on how they look as it could be someone who you end up really liking and being friends with or lovers with. This is a great message for people as it helps them to notice that looks is just something in which no-one has no control over. The love between the spirit and the girl I thought was also really sweet and really pure as it was romantic but didn't try to hold her back and was really cute in how they acted towards each other making this a really good romance movie. Finally, I thought that when the spirit did inhabit someone who was at risk of their own lives they touched this really well and actually got the person help which is a nice thing for them to do and not just sit back and watch it happen, showing that sometimes people aren't as alone as they think and if they are having really low thoughts then they need to talk to someone who might be able to help them.
On the other hand, this film didn't really answer any questions about the spirit or thing in which was inhabiting the people around them. By not understanding the character in which was A I feel that I didn't connect to the movie as much as I wish I did and hoped there would be more of A come through as the movie progressed. I also found that with some of the writing being through text messages I couldn't really read them making me miss parts of the movie which did frustrate me a little as it left me wondering what was happening at times throughout the film.
Overall, I thought that this film was really cute and had a really good idea behind it however it just left too many questions for me which did leave me a little disappointed. I would recommend this movie to those who are looking for a teenage romance that is different from the normal movies also those who like fantasy. I would watch this movie again!
My Rating: 3/5
---------------------------------------------------------------------------------------------------------------------------------------------------------------------------------------------------------------------------------------------------
If you have seen this film what was your opinion of it?
Do you have a film we should review? If so comment it below