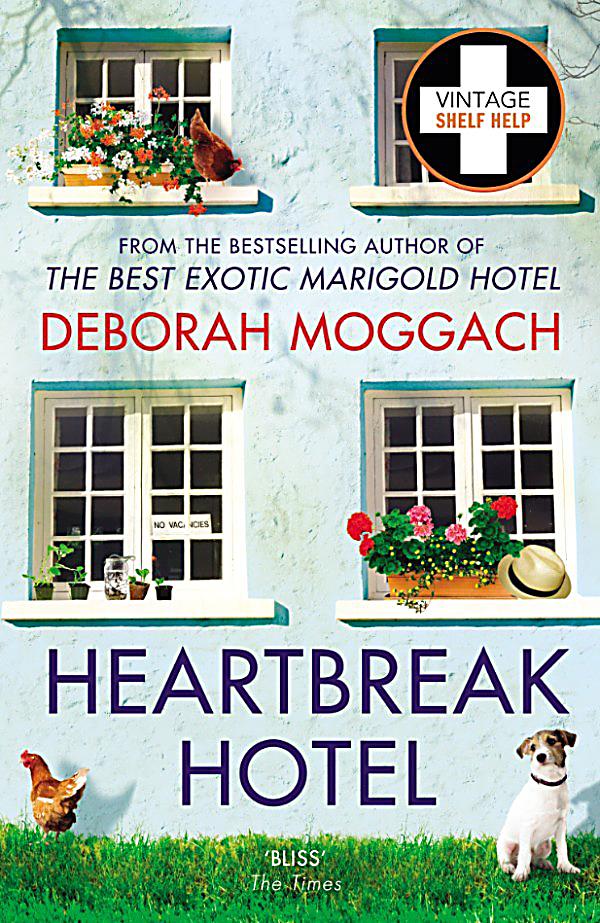 Book:
Heartbreak Hotel
Author:
Deborah Moggach
Genre:
Fiction, romance, comedy
Published By:
Penguin
Published Year:
2013
As part of a book group I had the challenge of reading a book with the word "HOTEL" in it. As a result I picked up
Heartbreak Hotel
by Deborah Moggach at my local library without knowing what the book was about and having never read anything by the author before.
The book is about a man called Buffy who when his friend Bridie dies and gives him in her will her BnB in Wales he decides to move from London to take over the BnB. When realising that the place isn't making any money Buffy decides to do classes for those who are recently broken up or divorced so that they could learn the skills in which their partners always done for the couples. However, it brings a lot of different things to the hotel instead in terms of friendships, love and even drama.
The book does follow ten different characters which does make this novel rather confusing and with the characters changing every couple of pages it did make me feel rather disconnected to the novel itself due to the amount of changes and not being able to really connect to the characters very well.
Buffy
Buffy is the main character in the book as it is his BNB in which the characters come to after having been given it by his friend Bridie after she passes away and being tired of being in London where everything is too busy for him and he doesn't feel happy. When Buffy does get to Wales he realises that the house in which he has been left gets dirty easily so goes to find the old cleaner Voda who agrees to work at the BnB and to help set up a website for the BnB and starts to become more known in the community and feels glad that he moved from London. As people start to arrive at the BnB a woman called Janet tells Buffy how her husband never speaks to her which makes Buffy start to think about doing classes on "How To Talk To Woman" to help bring more people and money to the BnB itself. As his daughter Nyange comes to visit the BnB and help with the finances they notice that the BnB is not breaking even and through speaking to another woman who is staying at the BnB mentions how she is going to do a class on mechanics as it was her ex-boyfriend who would do all of the work when the car needed help. As a result this gives Buffy the idea for classes for those who have just split up with their partners and are looking to learn some new skills, as he tells his children about his idea they seem wary about it, however this only encourages Buffy to put on the classes. To help promote the classes Buffy writes to the Daily Express with help from an old reporter in which lives in the town. As time gets closer to the first week of classes Buffy finds himself really nervous incase something goes wrong, however it does fill the BnB with guests and his step-daughter India decides to come to the town and help Buffy with his first week. As the first week of classes ends everyone seems to be a lot closer and some romantic ties seem to have been made, this also leads to one of the ex-husbands appearing out of nowhere to come and get his woman back leading to some drama within the BnB as there was nowhere for the man to sleep. As the week ends the reader is able to find out what happened to some of the characters as well as find out that the next coarse at the BnB will be called "Gardening for Beginners" also that India will be joining for the second week. Buffy realises that he has a lot in common with one of the men called Harold then discover that someone has taken Buffy's BAFTA award in which he kept in the bathroom and that a bottle of rum has also gone missing, making Buffy scared that their is a thief within the BnB. When he is told that someone within the household has been done for theft before Buffy decides to explore their room however nothing is there so he decides to go for a nap however upon hearing a slamming door and going to investigate he was able to find his BAFTA, The next week is one that Buffy is personally holding himself and that is "How To Talk To Woman" however only one person shows up and they are very confused about what is going on as they only booked the room as it was easy for him to go fishing and knew nothing about the class and the other's not having turned up as it seems that their partners or ex's put them onto the coarse without their acknowledgment. With no-one currently staying at the BnB Buffy starts to miss London and lonely due to everyone else around him and at the hotel previously seeming to have fallen in love with someone or rekindled their love. Harold moving to the town however has made Buffy feel happy as he now has a friend in which he can talk to regularly instead of changing guests every week. As Buffy takes a look back at what his classes have done for people he decides to go to London to see his only grandchild. As a new week starts Buffy starts to get feelings for a woman called Monica who is staying at the BnB however after Monica having told Buffy about a dead husband in which she lied about feels that this was maybe her way of pushing him away and showing that she was not interested in him at all especially as she keeps ignoring him as much as she can when he is around. As he realises that he is nobody's first choice as a lover Buffy decides to risk everything and go to Monica and tell her how he feels even if she is not interested in him, so going shopping for a new shirt he decides to ask his ex-wife's opinion on what he should do however Penny tells him that Monica decided to head back to London earlier that morning. Not wanting to miss his chance at love however Buffy decides to drive to London for her and tell her how he feels before her telling him that the feelings were the same for herself so spend the night together. Forward four months and it is India's wedding day and all of Buffy's family is there with all of his ex-wives, children and Monica he feels happy to have a large family who even though they might not have always been together are always there when it counts.
Having Buffy as the main character shows a lot of emotion and how he is worried about having the BnB as well as wondering if it will ever be good enough to make some profit and a good way to retire. The reader also feels happy for Buffy that although he is seeing a lot of people come and go from the BnB he is creating love at his establishment from his daughter to those who come for his classes. With Buffy also finding love the reader feels glad that he is not alone and that Buffy can finally feel at home and happy with having moved out of London. Buffy is a lovely character of the book which I am glad is there.
Monica
Monica is a character in which doesn't wish to be alone anymore and is in her mid sixties and starts thinking about how the she was having an affair with a man for nine years and wanted those years waiting on him to leave his wife for her and that he never would. Later in the book, Monica is at Buffy's BnB and lies to him about having been a widower even though she is lonely and went on the coarse for teaching how to cook to try and pick up a man even though there only seemed to be woman on the coarse itself. As Monica needs to take over the class due to Voda having had an emergency call Buffy decides to take her out for dinner as a way to say thank you and as they get back from dinner finds out that Buffy's ex-wife Penny is there. The next morning, Monica awakens in Buffy's bed and goes back to her room to get ready for the day before heading down for lunch in which she realises that Buffy is not being his normal self as they speak during lunch Monica admits that she lied about being a widower and has never actually been married before which leads to Buffy asking her to go to dinner with him. As Monica gets ready for the dinner she decides to wear matching underwear to try and be sexy for Buffy however when she comes down for the dinner she sees Penny is trimming his beard and gets jealous of her and decides to not talk to him for the rest of the time she is at his BnB. Wanting to leave she phones her office and they tell her to relax as she is on holiday so she decides to get drunk back at the BnB and discovers that another of Buffy's daughters were there and feels out of place. Being drunk she walks into one of his meetings which has his family there and mentions a way for his BnB to make money from bankers and business people who need more discreet places to stay and work. Finally, as Monica ends up with Buffy she is at a wedding with his whole family and finally does not feel out of place and feels a part of his present. This is also the first time in her life she feels part of a family and comes up with another idea of how the BnB could make money.
I personally, could understand Monica's character and how she feels jealous after having been used by a man in the past and not feeling like she is good enough as herself for anyone else to love even though she is lonely. I do think that she is rather annoying as well however and gets annoyed over the smallest of things which makes me disconnect from this character and wish that she would grow up. However, as you see her finally get happy and find her place with Buffy it is good to see that if it is meant to be there will always be a way to make it happen and that you should not just give up on someone just because of their past with other people.
Amy
Another character in which the reader is introduced to is Amy; a make-up artist who is with a man called Neville who works for the Lib-Dems. However, after three years together they seem to have nothing in common and both are not happy within the relationship so Amy on set for a movie she is working on has an affair with a man called Kieth and when Amy gets home gets into an argument with Neville and they decide to end their relationship. Two months later, Amy misses Neville so decides to call his sister and finds out that he is in Tenneriffe with a woman called Alice and that they are saving to move in together. Finding out about the mechanics class at Buffy's BnB, Amy decides to go so that she is not relying on people with her car all of the time and finds out that she is sharing a room with a woman called Rosemary and the two get along instantly. As Amy finds out more about Rosemary and a woman called Lou decided to take the coarse themselves the people on the coarse find out about the daily plans for the week when it comes to the classes as well as the entertainment within the village. While the classes are going on Amy has a private lesson with Nolan the instructor and ends up getting feelings for him and only speak about horror movies and make-up, Amy also finds out that Nolan still lives with his mother and Amy asks if Nolan would like his make-up done which he agrees to. However, Amy didn't bring her make-up kit and has to ask her friend to borrow theirs which they agree to. Amy also ends up getting jealous of a young, rich woman called Bella who has a private lesson with Nolan right after she does. As Amy ends up meeting Nolan's mother she comes to the conclusion that she doesn't like her and can't believe how much drama the two of them have been through together in the last day. As they get back to the BnB Buffy tells them how Rosemary's ex Dougie is in her room at the moment and he will have to kick him out only to have Nolan ask Amy if she would like to stay at his since his mother is in hospital so now has a spare room in which Amy agrees.
I personally liked Amy's character and found her someone in which I could really feel for and wanted to be happy after having been unhappy in her previous relationship. However, I was angry that she cheated on her ex and felt bad on her having only called two months later to find that her ex was with someone else so quickly and was already planning to move in with them leaving Amy feeling worse. I was glad that she did get involved with Nolan though as they seemed to have a lot in common and would make a really nice pair together and have a good time with. I also thought that Amy's character is relatable for those who are going through a bad relationship and shows that you shouldn't give up just because it didn't work with one person and you can find the right person in a lot of different ways and places even when you are not looking or expecting it.
Harold
Harold who is an author and crazy about his wife end up with three new chickens and goes to get them some food. When he does he sees his wife Pia with a Japanese woman and later that night decides to ask his wife about it and she admits to have fallen in love with the Japanese woman in which she was seen with before shortly after moving to Amsterdam with the woman leaving Harold all alone. This leads to different woman coming around offering help with the garden and with the chickens however Harold is not interested in their advances as he still misses Pia. Harold then discovers the coarse "Gardening for Beginners" happening at the BnB and decides to go for some help with his garden and with his chickens he has to now look after. While there, Harold starts speaking to Voda who understands about chickens and takes him to a shop in which would help them and gives him stories about people that are in the village which gives him a great idea for his novel. As he starts writing his novel he can't seem to find an overall plot but comes up with little ideas which aren't able to come together very well. As a way to distract himself and still get human contact he decides to see Buffy every evening for dinner. As Harold starts getting closer to Buffy's ex-wife Penny they end up sleeping together and he feels like he has betrayed Buffy as a result and thinks that maybe Buffy put Penny up to it or that Penny was only trying to make Buffy jealous and overthinks the whole situation. However he realises that he is crazy about Penny.
I feel sad for Harold as his character was in love with someone only to have been betrayed and cheated on out of nowhere making his character feel like he isn't wanted and that he isn't good enough as he is. I was glad to see however near the end that he did end up loving someone else showing that just because love didn't work the first time you shouldn't give up and even though you have self doubt and that things might not always go to plan you should continue with it as you never know what will happen.
Andy
The reader meets Andy a year into his relationship with Toni and how she is planning a hendo for her friend, later that night getting engaged herself. Forward four years and both of them don't talk at all and when they do talk it is only to argue. Due to this both parties agree to end their relationship and Andy moves to Harrow after being transferred there from work. Andy also wonders what woman talk about when they are together. As he does to Buffy's BnB he realises that although he only went there in order to go fishing Buffy had a coarse on and both men end up talking, this makes Andy admit that he is better friends with his wife now that they are seperated compared to when they were together. Buffy also shares his experience as a home husband so that both knew that they were not alone with what has happened to both men. He also feels like this town in Wales men could be men again. Getting a job as a mailman in the town he meets a woman called Carrie when on his rounds who is crying when he arrives due to a tree hitting the greenhouse and smashing it to pieces. As Andy helps her clean it up so that it would be less of a shock both of them end up talking for hours.
I thought that Andy's character was nice in that he was able to just show how sometimes people are better as friends than they are as a couple. I also liked how he did manage to find someone else while in the village making the whole visit for him worthwhile and showing how sometimes a change of scenery is good for people.
Nolan
As one of the instructors for Buffy's workshops for mechanics, the reader is shown how he still lives at home with his mother in a council house after having been made redundant from work. Nolan is also scared about screwing up the coarse but is also excited to get some work. As he has a one-on-one session with Amy who they end up getting along really well with Nolan realises that he has feelings for Amy and also finds teaching a lot harder than he thought it would be, especially as people kept going off to make jewellery with India instead of doing his classes. He also believes Amy is right when she says that his mother is scared of losing him. As Nolan's mother comes home from Amy doing his make-up his mother collapses and Nolan needs to call an ambulance for her but also feels sorry on Amy for having been there when it happened. Nolan doesn't want Amy to leave however and as his mother is taken to hospital Nolan takes Amy back to the Bnb which leads to her staying at Nolan's.
Nolan came across as a really sweet character who just wants his mother to be okay but feels out of place not having a job anymore and wishes he could be more than he is. It was nice for him to have a chance to work again however and having met someone who had a lot of similar interests to himself in which he was able to talk to and have someone there when things went wrong for his mother. I think that Nolan and Amy are a really good couple which got paired up in this book and showed that life can look up for people sometimes you just need to give it a little time.
Shirley
Shirley is Nolan's mother who ends up going to lunch with her sister. While at the dinner however her sister boasts about her marriage and makes out that Shirley needs to eat less which leads to her crying and leaving the dinner and heading home. When she gets home and notices that Nolan is covered in gore she gets a huge pain in her chest and collapses.
Finding out that Shirley does have a lot going on in her life and therefore doesn't want to let go of Nolan makes a lot more sense when the audience sees that Shirley's sister is not supportive of her at all and makes her feel alone and like she is weak. This does make the audience feel sorry on Shirley and worry that the thought of her son badly hurt is causing her to have a heart attack due to not being able to handle being alone and her son no longer with her. I think that by adding this the reader is able to understand Nolan a lot better and why he feels his mother is unable to let him go.
Lavinia
When married to Teddy and realising that they are both wanting different things when it comes to children with him wanting children and her not wanting them. Heading to the BnB for teaching "Gardening for Beginners" and hoping to meet a man Lavinia is disappointed when she realises most of the people on the coarse are in fact female. Wanting to start right after dinner she finds that she is annoyed when people are more interested in the fact that people are more interested in a baby, also realising that one of the people called Mary who she has seen in court for shoplifting decides to keep an eye on her. During that week Lavinia realises that she is starting to develop feelings for Buffy, not only this but Mary realises that she recognises Lavinia however doesn't know why. As the front door goes there is a man called Conor who appears which says he goes out with Voda, as he starts pulling at her and speaking disrespectfully India appears and says that she is now in a relationship with Voda.
With Lavinia I feel that there was not much need for her character except that she ran a coarse however this was not a good enough reason to have this character and made me feel that I was not connecting with her at all. I also felt that by having her have feelings for Buffy this was not acted on and didn't become something to really entertain the readers it was just used as a way to add more to the book.
Penny
After having written articles in the paper and writing about properties she feels as though with all of the newer faces and with the online competitors she has become a nobody. Wanting to change her life up Penny decides to quit her job and move to the country which leads to her taking part in the cookery coarse taking place at the BnB in order to learn how to cook as there is no local shops near where she lives making it harder for her to get food that isn't fresh. As Penny starts to become close to a man called Harold and while at a coffee shop together to discover that a woman they know called Amy works there and starts to get a little jealous over Buffy and Monica starting to catch feelings for each other. As a result of this both Penny and Harold speak about their pasts. Getting back to the BnB where Penny is staying to realise that Monica is leaving the BnB with a suitcase and her car at the bottom of the drive. Noticing this Penny runs outside to try and stop Monica and talks to her about how she should not give up on Buffy. By doing this Penny mentions how she was insecure when she was also with Buffy in the past so that Monica realises that she is not alone however this is not enough for Monica and she leaves. Finding out that Voda and India are going to get a civil partnership and that Buffy went to London to try and find Monica, Penny decides to go into the dining room in which she sees Harold and he tells her that he loves her.
I thought that this was a really good way of bringing a character who feels that she isn't doing well at her job and telling people that it is okay to change up your life and do something that is outside of the box and try new things. By having Penny still getting a little jealous over Buffy it shows that people can go a long time without someone but sometimes feelings no matter how deep are still there for someone in which they once loved. Having Harold and Penny also getting close also showed that just because you are getting older doesn't mean that you can't gain new friends and possibly even a new love. Knowing that Penny has also had a past with Buffy helps the reader know that although Penny and Buffy are in the past she still wants him happy and helps him to achieve that even if it means helping his new love interest to know she shouldn't be insecure about how she feels. This is really meaningful to me as it shows that just because one person couldn't make it work with someone doesn't mean we shouldn't let them be unhappy and that people should help others as much as they can. Finally, I liked that Penny showed that you are not too old to fall in love with someone and that if you like someone you should go for it as you don't know how the other person will also feel.
Epilogue
Finally, finding a way to have the BnB make profit Buffy and Monica help to make it a retreat for bankers and other business people in which they could help the community and have a chance to do teamwork and bond. As a result this is a success and helps them to make money as well as helps to blossom the surrounding businesses.
I thought that this was a nice ending to the book to see that Buffy is not only happy but able to make money from the BnB which he was struggling to do for months.
Overall
Overall, I thought that the book switched characters far too often and made me not connect with the characters at all which was disappointing. Also I wish that it showed some characters not finding love as it seemed to make the book really unrealistic by making everyone who meets there falls in love and has a happy ending. I did think that bringing a lot of different kinds of characters together was good however and it was a good idea for a book but it just didn't come together quite correctly especially with so many different characters throughout.
My Rating: 3/5
---------------------------------------------------------------------------------------------------------------------------------------------------------------------------------------------------------------------------------------------------
If you have read this book what was your opinion of it?
Do you have a book we should review? If so comment it below