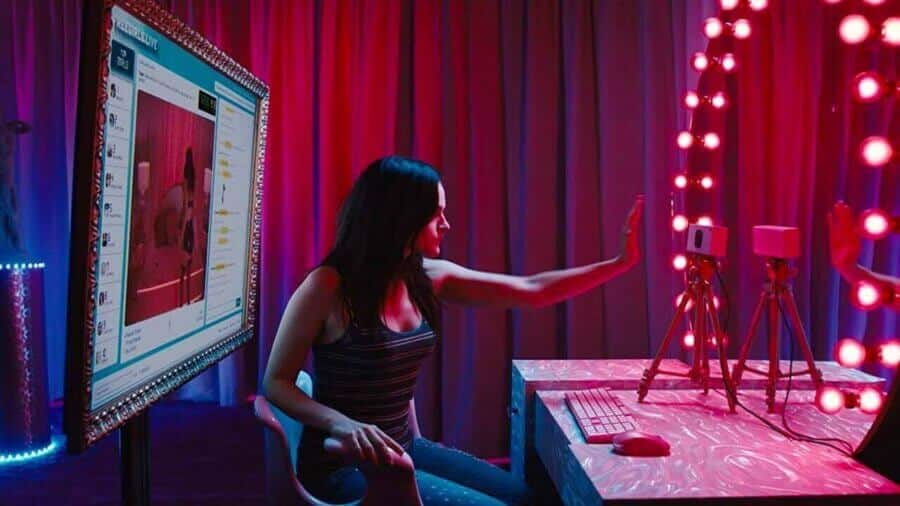 Film:
Cam
Year:
2018
Genre:
Horror, Mystery, Thriller
Directed By:
Daniel Goldhaber
Starring:
Madeline Brewer, Patch Darragh, Melora Walters
About:
Alice, an ambitious camgirl, wakes up one day to discover she's been replaced on her show with an exact replica of herself.
Trailer: https://www.youtube.com/watch?v=pN8xZ5WDonk
My Review:
Wanting something different to watch I thought I would go for the movie
Cam
which is available to watch on Netflix and although it kept my attention this film did rather disappoint me.
With the film being about a camgirl I was rather intrigued about how this would end up as a horror and was looking forward to the development of the movie and did keep my interest in that she gets taken over by someone who looks like her even though not herself. I also liked that through this the watcher was able to see how Lola was reacting to someone impersonating her and the trouble in which she was going through by having the tech support not helping her and her friends not doing anything to help either. Having also later in the movie realising that this is not the only person in which this has happened to and that one used in which watches her and moved close to her knew it was going to happen and helps Lola to discover that she is not the only person in which this happened to is good for the viewer to see. By also showing that Lola has kept this from her family and it getting uncovered and her family having to deal with the fact she is a camgirl was something in which made this film well made to me as it showed how family even when they are angry and disapprove of your life choices can also learn to move past it for the love of their family and keep to them safe later. Having Lola also in the movie when she has all but given up end up on a stream with the other version of herself to try and prove that the impostor is fake and manages to delete the account in order to stop it was good at showing how in the end having to stop the thing you love can sometimes be the only option, not only this but by having the ending show her making a new account was good at showing the audience and telling them that if you have a love or passion for something even if things go badly wrong you should never give up what you love and trying to make your dreams come true especially if it is something that makes you happy.
There was a lot with this movie however in which I wasn't a fan of such as how they left a lot of questions unanswered such as how Tinker was able to find her and move to her city in order to be closer to her. It also left questions about how the impersonator worked as this wasn't answered at all and left me rather frustrated with the movie especially as the ending seemed like it led to nothing. With also having joint shows in which were made it did question how this was all possible especially as one of the girls was dead which made part of this movie make no sense to me and with zero answers left me rather confused. Finally, this film was not really a horror movie at all so wasn't really put into the horror style of movies in my opinion which did make this film a disappointment.
Overall, this movie left a lot unanswered however did have a good story to follow. I would recommend this movie to teenagers who want a thriller movie and based about the internet. I would watch this movie again however to see if there were parts I missed while watching it for the first time.
My Rating: 3/5
---------------------------------------------------------------------------------------------------------------------------------------------------------------------------------------------------------------------------------------------------
If you have seen this film what was your opinion of it?
Do you have a film we should review? If so comment it below