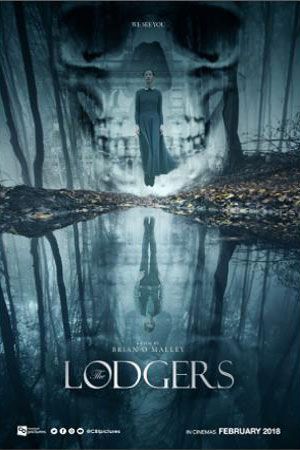 Film:
The Lodgers
Year:
2017
Genre:
Drama, Horror, Romance
Directed By:
Brian O'Malley
Starring:
Charlotte Vega, David Bradley, Eugene Simon
About:
Twin siblings live under a curse in their ancestral home, but one of them is tempted to defy the house rules, angering the spirits keeping them hostage.
Trailer: https://www.youtube.com/watch?v=ltIcW2xMuzs
My Review:
Wanting to see a horror film in which I hadn't seen before and something that wasn't from America as a lot of horror movies I see are I couldn't resist but to see
The Lodgers
.
The film is about a girl who is trapped into her house with her brother after the house keeps talking to them and their parents die. Not wanting to be there anymore the girl decides she wants to leave but the house has other ideas.
I thought that this film seemed familiar to me as in I had seen something similar before however this didn't take away from the movie for me. I liked how the girl reached out and really tried to escape the house as much as she could while also trying to get her brother to come with her, however he couldn't leave the house. Learning why the brother couldn't leave I thought was a good touch and how the house managed to get control over him due to it. I found
The Lodgers
was rather creepy at times and did make me continuously want to know what was going to be happening next. The acting throughout this was also really well done and did make me believe in the characters which was a really good thing to see. I also thought that the ending where you see the crow follow the girl was great at showing that the curse was following her still even if she has left the house.
The house did seem rather quiet to me and mumbled at times which did make me confused at times as to what the house was saying. I also believe that there should have been more on what the curse was and how it started and why it was taking over their lives which it doesn't seem to touch on which was rather disappointing due to the curse being the main thing in this movie.
Overall, this was a great Irish movie and one that was a rather creepy horror film however could have added more depth to it. I would recommend this film to those who are wanting a film about curses and a creepy horror film rather than scary. Also those who like more period style films and horrors would be suited for this.
My Rating: 4/5
---------------------------------------------------------------------------------------------------------------------------------------------------------------------------------------------------------------------------------------------------
If you have seen this film what was your opinion of it?
Do you have a film we should review? If so comment it below