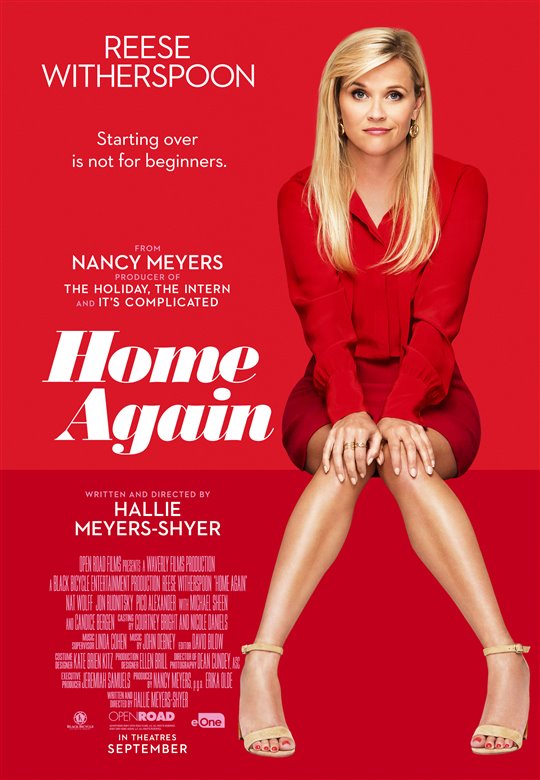 Film:
Home Again
Year:
2017
Genre:
Drama, Comedy, Romance
Directed By:
Hallie Meyers-Shyer
Starring:
Reese Witherspoon, Michael Sheen, Candice Bergen
About:
Life for a single mom in Los Angeles takes an unexpected turn when she allows three young guys to move in with her.
Trailer: https://www.youtube.com/watch?v=lfHZ-B374iA
My Review:
Having wanted to see
Home Again
in the cinema however, never getting around to it. I was glad that this got put onto Netflix so I could finally see this movie especially as it has Reese Witherspoon who I love as an actress and Michael Sheen who is an actor who I really enjoy watching in everything I have seen him in.
The film is about a woman who splits with her husband and moves back to L.A. however when out for her fortieth birthday ends up coming home with her friends and three young film makers. Upon discovering that they had nowhere to stay she invites them to stay in her guest house and ends up creating a relationship with them which will change everything for her and her children.
I found that this film was rather cute to watch and rather original in the way that the film was done for a romantic-comedy movie not only showing the romance but how the three young men effect her family life and her life now as she is broken up with her husband who is still in New York. This film was good at showing how some people are needed for you as friends in ways you didn't feel you needed someone such as with social anxiety and feeling depressed to help take some of the pressure off of you as a person and in time slowly get better. Also with an ending in which had a lot of warmth to the movie and wasn't the cliche happy ever after ending this made me glad to have seen it.
I did find that the film was really easy to follow so if you are looking for something really easy to follow then this would be a good movie for you. I did find that the acting at points was rather bland to watch which did effect my rating of the film overall. I did feel like if the audience got a little more insight of the characters rather than the main characters all the way through then this would have added more depth and been even more enjoyable to watch.
Overall, this is a really sweet rom-com which people would enjoy if they are looking for a film in which is really easy to follow and something to relax to at the end of the day, however would be forgettable compared to other rom-coms. A film I would watch again however as it is a rather fun movie.
My Rating: 3/5
---------------------------------------------------------------------------------------------------------------------------------------------------------------------------------------------------------------------------------------------------
If you have seen this film what was your opinion of it?
Do you have a film we should review? If so comment it below