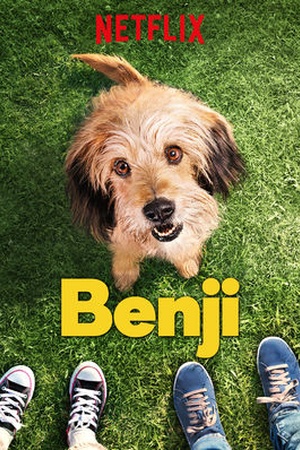 Film:
Benji
Year:
2018
Genre:
Crime, Drama, Family
Directed By:
Brandon Camp
Starring:
Gabriel Bateman, Darby Camp, Kiele Sanchez
About:
Two school kids strike up a friendship with an orphaned puppy named Benji. When danger befalls them and they end up kidnapped by robbers who are in over their heads, Benji and his scruffy sidekick come to the rescue.
Trailer: https://www.youtube.com/watch?v=UqtFvSKhKmA
My Review:
Having seen that Netflix made a new version of the film
Benji
which was initially brought out in the 1970's I couldn't resist giving this a watch and seeing how it compared to the original film and it certainly didn't disappoint!
The film is about two children who are saving up for a watch that belonged to their father and end up walking into a robbery, as they do so the robbers decide to take the children with them as well. However the dog in which the children were wanting to take care of notices and helps to try and find the missing children with the help of another dog and the police.
I thought that this was a great film and one to bring
Benji
back into the hearts of children and families in a more modern way. I found that this film was entertaining from start to finish and I didn't want the film to end at all, I also found myself tearing up at the end of the movie which shows that the film was done correctly so that the audience felt for the dog as well as for the family who are going through the kidnapping. The fact that this film also mostly follows the dog
Benji
makes this film different from other kidnapping films that only follow the police and the people who have been kidnapped.
I would highly recommend this film to families and those who like dogs, not only this but I would recommend this film to those who want a kidnapping movie but with a different narrative.
My Rating: 5/5
----------------------------------------------------------------------------------------------------------------------------------------------------------------------------------------------------------------------------------------------------
If you have seen this film what was your opinion of it?
Do you have a film we should review? If so comment it below