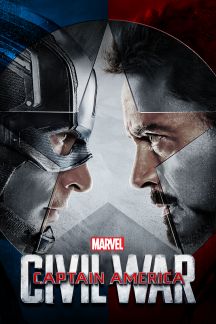 Film:
Captain America: Civil War
Year:
2016
Genre:
Action, Adventure, Sci-fi
Starring:
Chris Evans, Scarlett Johansson, Robert Downey Jr.
About:
Political involvement in the Avengers' activities causes a rift between Captain America and Iron Man.
Trailer: https://www.youtube.com/watch?v=dKrVegVI0Us
My Review:
Wanting to watch a Marvel movie I couldn't resist but decide to watch
Captain America: Civil War
which I have not seen since it was in the cinema back in 2016. This is my views on the movie.
The film is about when the government want to own the Avengers, Captain America and some of the other Avengers refuse to do so. However, when at a United Nations meeting there is an explosion and Bucky Barnes is accused of causing it Captain America and his friends will do anything to stop Iron Man.
This film is action from the very start and this makes me really like the film and be drawn into it almost instantly. Not only this but by causing a drift between two of the characters; Captain America and Iron Man it makes the fans need to choose who's side they are on and show more of a political edge to the Marvel Universe which hasn't happened previously. Also by adding in new characters such as Spiderman and Black Panther the fans are excited to see what happens next for both of these characters and want to see more of them making this film far more exciting.
This film is one that Marvel fans should not miss as it includes most of the characters within the MCU while also adding new ones which leads to the Black Panther and Spiderman solo movies. This is a film in which is my favourite within the Captain America franchise and with it ending with still Tony Stark and Steve Rodgers not on talking terms it leaves the watcher wondering what is going to happen next.
I would highly recommend this movie to fans of Marvel and to those who are wanting to see a film with a lot of action.
My Rating:
4/5
----------------------------------------------------------------------------------------------------------------------------------------------------------------------------------------------------------------------------------------------------
Who is your favourite character in the MCU?
If you have seen this film what was your opinion of it?
Do you have a film we should review? If so comment it below