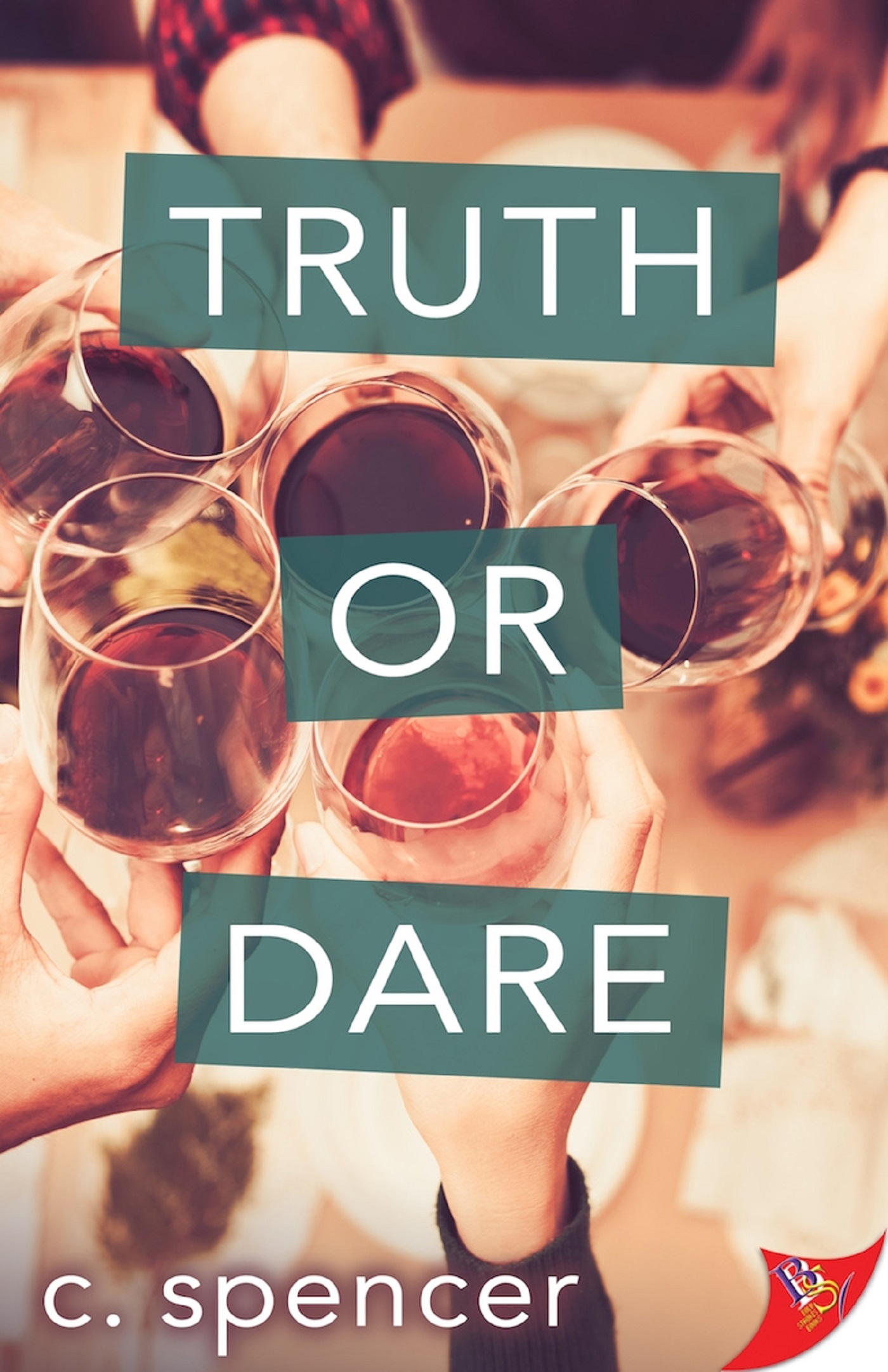 Book:
Truth or Dare
Author:
C. Spencer
Published By:
Bold Strokes Books
Published Year:
2018
My Review:
This book is split into four different segments which is done by days between Thursday and Sunday and follows three different groups of couples who are at different stages in their relationships. First there is Hadley and Jessie who are friends who are both interested in each other, second is Ryan and Brie who are going through their break-up and finally there is Ella and Sam who are a happily married couple and still very much in love with each other and this weekend is their anniversary.
Thursday
During the first part of the book you are introduced to the main character's who you get to see the perspective of which starts with Jessie who has just broken up with her current girlfriend Alicia and so when her best friend Hadley can't get back to her house due to a snowstorm goes over to Jessie's house where we discover that she has feelings for Hadley as they reminisce about the past.
Next you meet Sam and Ella who are happily married after meeting at a wedding in which Brie was catering after having broken up with Jessie, forward to now and it is their five year wedding anniversary and although Ella seems to be in her own world it seems that Sam is still completely smitten by Ella.
Finally, we meet Brie and Ryan. This is a couple who have been together for a year and although Ryan still loves Brie she is no longer in love with Ryan and still has feelings for her ex-girlfriend Chris and starts to reply to a message in which Chris sent her weeks prior.
This segment of the book is really well done and keeps the reader interested as it is introducing you to the characters and finding out how they are all linked together and are all friends and are not just random couples.
Friday
With Brie not happy with Ryan she brakes up with her and are shown how Ryan and Brie ended up a couple which leads to the reader feeling slightly strange about the relationship however later that day Brie goes over to Jessie's house to speak to Hadley and ends up alone with Jessie and start to become friends. After they go out for a meal with Ryan and start talking about children and how Brie wants to be pregnant one day and have a child which Ryan does not want.
With Ella and Sam continue to celebrate their anniversary weekend in the snow and worry about their other anniversary plans not going ahead due to the snow which has covered the town. However, you are still able to see that this couple are completely in love with each other.
Jessie and Hadley are the final couple who you hear from and you discover how both of them want to be with each other however are scared to be together due to having known each other since they were children which you get to see in this segment of the book. You also see Brie start to flirt with a girl at the bar in which Hadley works so Jessie takes a walk with Ryan to try and not let her see what Brie is doing as she is unaware that they have broken up.
From this the reader is able to be more informed about how the couple's got to know each other and how they are coping with the current situations in which they are in giving the reader a lot more insight and keeps them wanting to read more and finding out what happens next between all of the couples now that they are all more connected.
Saturday
As Ryan and Brie are still newly broken up Ryan wants to talk to Brie and ask her to stay however finds out instead about Chris through letters that was written to Brie that she found in a cupboard, which starts an argument and makes Brie tell Ryan she will be out of the house within a week. Brie also decides to change how she looks as well by going to the hair dresser and cutting her hair different from how she usually has it. Ryan also offers to move with Brie to Portland to be closer to her family and help Brie find a job if this will keep them together.
Hadley contacts Jessie after having been to her house and tells Jessie to dress up which she does and end up cooking a meal together with Hadle showing Jessie what to do, after too many glasses of wine they end up playing Truth or Dare which leads to them both telling each other that they have feelings for each other and getting physical.
Finally, Sam and Ella go to the ballet for their anniversary as well as a fancy meal to celebrate and the reader ends up finding out that Sam doesn't like Jessie due to her having been the ex-girlfriend of Ella.
This part of the book is the most intense part of the book with things being at their most heated with Ryan and Brie and things possibly having fallen into place for Hadley and Jessie or could have just destroyed their friendship, however Ella and Sam are still the happily ever after which brings some light to the reader.
Sunday
After the game of Truth or Dare Hadley and Jessie go to a cafe to talk about what happened the night before and decide to start dating which leads to them having a snow day before getting ready to go to Sam and Ella's anniversary party together. Which leads to Hadley realising that her best friend is moving away and she probably won't see her again and finding out that she is the soul mate of Jessie and is why Jessie has never settled down with anyone before.
With Brie and Ryan spending almost no time together and barely talking they both decide to try and move on which at the anniversary party leaves Chris having phoned Brie and them both saying how they loved each other and still want to be together, however this does make Ryan realise that Brie is leaving and offers to help her pack her stuff for moving back to her parents in Portland and her future without Brie.
Finally, we see that Sam and Ella do have some arguments such as about Jessie and how she calls randomly because Sam doesn't appreciate that Ella's ex is still in her life. After everyone leaves their anniversary party they slow dance having had a good anniversary weekend together.
The end part of the book is so touching and does keep the book together well as ending the book well.
Overall
Overall, I did really enjoy this book and found it hard to put down. I did love how this was a book which was based on lesbian couples as well which is not something I tend to come across much and came off unique. I did however find that it was hard to really know what was happening at times as there was too many main characters and the last day of the book seemed to overlap too many people which made me confused and have to look back a page or so to even tell who was speaking. Overall, however a great book and one I would recommend.
----------------------------------------------------------------------------------------------------------------------------------------------------------------------------------------------------------------------------------------------------
If you have read this book what was your opinion of it?
Do you have a book we should review? If so comment it below
To keep up to date with us please check out the following: