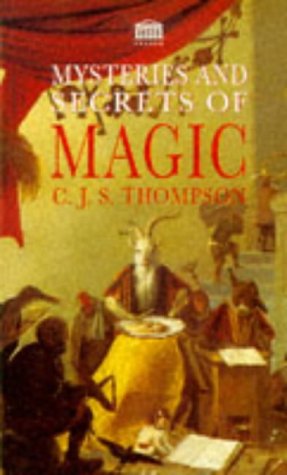 Book:
Mysteries and Secrets of Magic
Author:
C.J.S. Thompson
Published By:
Senate
Published Year:
1927
My Review:
As this book is a non-fiction book about magic I did find this rather interesting to read however it seemed like this novel was more of a tester to see what kind of topic you would be most interested in with it only having short amounts on various topics such as: Supernatural Beings, Greek and Roman Magic, Magical Numbers, The Grimoires or Handbook of Black Magic, Magic in Shakespeare's Plays and many more.
This did however teach me about magic that I didn't know about and now want to look more into as a result of this book and discover more about the magic of the past as well if there is any use of magic in the world now as we know it in 2018 almost 100 years after this book was first published.
I would recommend this book to those who would like to know more about magic however don't know what they would like to learn as this will help you know what aspects of magic you would like to look into and is a great introduction to many different styles as well as topics about magic.
----------------------------------------------------------------------------------------------------------------------------------------------------------------------------------------------------------------------------------------------------
If you have read this book what was your opinion of it?
Do you have a book we should review? If so comment it below
To keep up to date with us please check out the following:
Facebook: www.facebook.com/AshleighAbsurdblogger
Twitter: www.twitter.com/movieandbooksg
Instagram: www.instagram.com/AshleighAsburd
Tumblr: www.tumblr.com/movieandbooksgirl