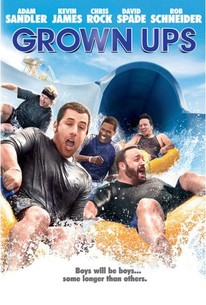 Film:
Grown Ups
Year:
2010
Genre:
Comedy
Director:
Dennis Dugan
Starring:
Adam Sandler, Salma Hayek, Kevin James
About:
After their high school basketball coach passes away, five good friends and former teammates reunite for a Fourth of July holiday weekend
My Review:
Wanting some comedy to watch and something I hadn't seen in ages I saw that
Grown Ups
was on Netflix and couldn't resist giving it a watch.
The film is about a group of friends who are reunited because of the death of their old basketball coach so decide to hire the cabin next to the river so that they could have a weekend together to catch up and the children could get to know each other. As this happens they realise that the children don't know what to do without technology and start to try and bring them back to being children while bringing out the children in themselves as well. However, when an apposing team who they beat as children wants a rematch some thirty years later will they play the game?
I found this film a really good watch and it did make me laugh, which was my intention when walking into this movie. I feel it also has a family for everyone wither it is the single man who is by himself, the big Hollywood family who although slightly grounded seems to be really snobby, a hippy family who is really into nature and a couple of others. I thought this film was good for a quick laugh and something which is really easy to watch and follow the story line of.
I would recommend this movie to those who would like a relaxing comedy film to watch and can have a laugh without having to really think into anything.
My Rating:
4/5
Trailer:
https://www.youtube.com/watch?v=e01NVCveGkg
----------------------------------------------------------------------------------------------------------------------------------------------------------------------------------------------------------------------------------------------------
If you have seen this film what was your opinion of it?
Do you have a film we should review? If so comment it below
To keep up to date check out the following!
Facebook: www.facebook.com/Ashleighabsurdblogger
Twitter: www.twitter.com/movieandbooksg
Instagram: www.instagram.com/Ashleighabsurd